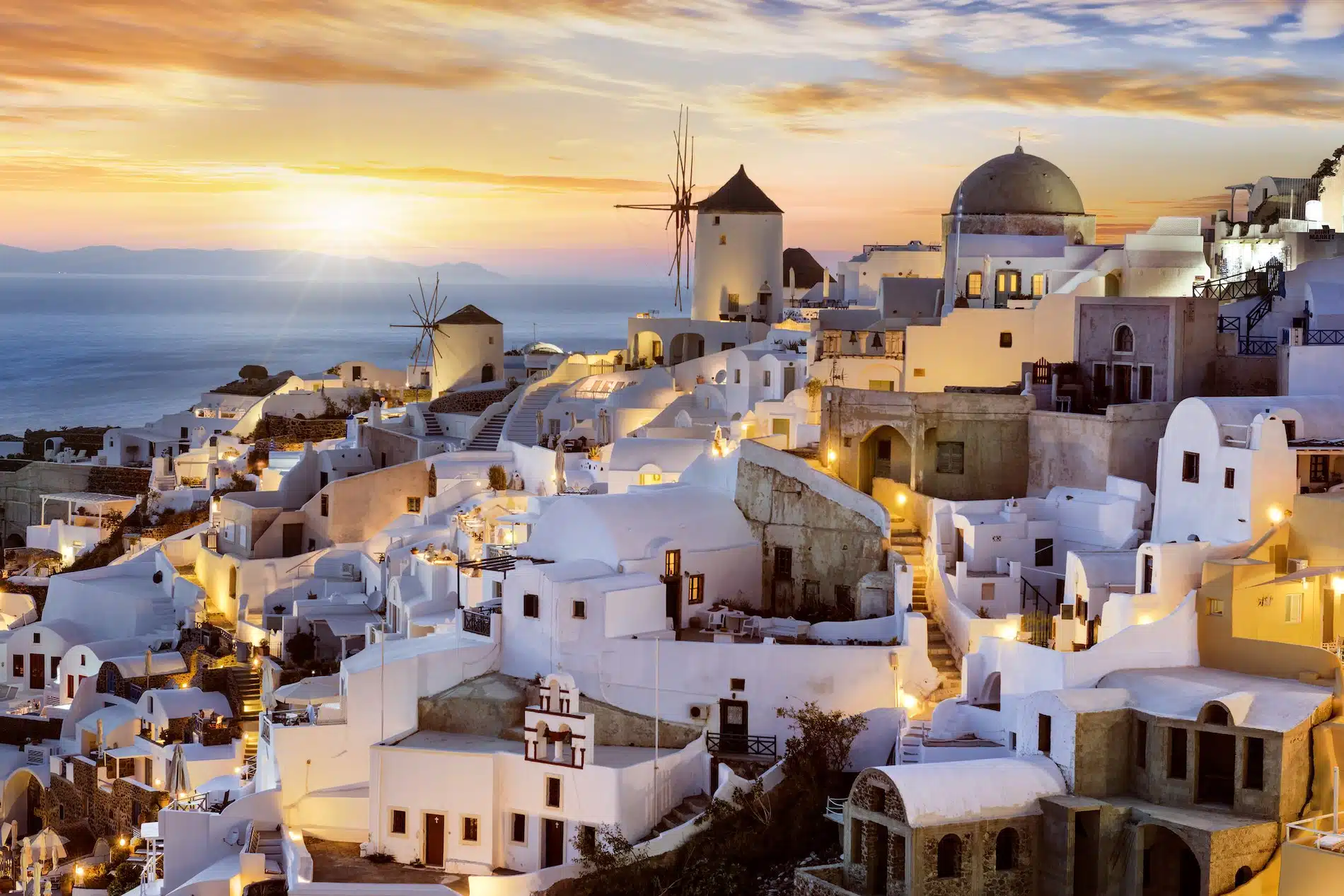 How Oia became synonymous with luxury
Magnificent cliffside hotels with awe-inspiring infinity pools, exquisite tastes of the Aegean Sea, immaculate local wine varieties, and an abundance of luxury dining venues. Santorini ranks among the most luxurious holiday destinations, as it attracts hordes of visitors all throughout the year.
Undoubtedly, Oia's reputation as the most elegant vacation spot on Santorini precedes it. The cosmopolitan village of Oia is built on top of Santorini's breathtaking volcanic cliffs, thus offering unique views of the Aegean Sea.
What is that makes Oia a high-end holiday destination?
Oia's charming architecture
Oia's distinctive architecture is based on the contrast between the old and the new. Traditional whitewashed homes with deep blue arches thus intertwine with state-of-the-art venues and luxury dining restaurants; a contrast that is definitely impressive, yet largely effortless. Unlike most parts of Santorini, Oia's streets are meant exclusively for pedestrians, a seemingly tiny addition which nonetheless adds to the picturesque village's charm.
A celebration of Aegean gastronomy
Apart from the wondrous displays of the ever glorious Aegean architecture, Oia is the most iconic location to enjoy impeccable dishes, ones that elevate Santorini's culinary tradition into a luxury dining experience. A wide variety of dining halls, rooftops, and outdoor areas are able to brighten up your vacation with a pinch of luxury dining, while remaining loyal to the locally-sourced products that make Aegean cuisine unique.
Unique landscapes and sunset views
Oia owes part of its glamour to its unparalleled views of its surrounding volcano, astonishing caldera, and, last but not least, the endless Aegean blue. The iconic skyline that celebrates Cycladic architecture is bathed in sunlight throughout the day and baptised in the renowned Santorini sunset as the sun goes down, which makes Oia an incredible spot for luxury dining.
Where romance meets relaxation
Built on top of rocky cliffs and filled with a great deal of hotels and resorts, Oia is considered as the perfect accommodation spot on Santorini. Oia invites its visitors to become accustomed with the immaculate feeling of relaxation between cliffside pools, spacious patios with hot tubs, and private dining halls, among other premium amenities. All of the above have allowed Oia to emerge as the ultimate spot for romance, as well as an unsurpassed honeymoon destination.