Luxury dining and enchanting sunsets in Oia
When it comes to captivating the very essence of luxury dining and immersing oneself in the beauty of nature, few places can rival the mesmerising island of Santorini in Greece.
Magnificently perched on the cliffside and offering absolutely ambient sea views, the picturesque village of Oia is renowned for its enchanting sunsets that paint the sky in hues of crimson and shivering gold.
Amidst this breathtaking backdrop, hordes of travellers can indulge in a culinary journey that celebrates the most talked about sunset in the globe, while exploring an array of traditional flavours and enjoying an impeccable service.
How can one make the most out of a luxury dining experience that is dappled in Oia's majestic sunset?
Enjoy Oia's immaculate sunset while dining in luxury
As the sun begins its descent, there is no better place to witness the spectacle other than one of Oia's countless rooftop terraces. These very elevated vantage points provide unobstructed panoramic views of the sun setting over Santorini's caldera, creating an ethereal atmosphere. Take your seat at a carefully arranged table, sip on a glass of chilled wine or champagne, and prepare to be captivated as the sky transforms into a masterpiece of colourful shades.
Dive into Santorini's culinary heritage
Santorini is renowned for its rich gastronomic tradition, and Oia presents a multitude of exceptional dining options that cater to the most discerning palates. The village of Oia offers an array of culinary delights that vary from authentic and traditional to elegant and luxurious, enticing visitors not only in the ever-glorious world of seafood, but also in succulent meats and locally sourced crops, all expertly prepared by some of the globe's most innovative chefs.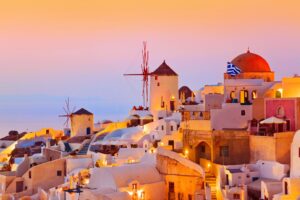 Cherish romantic moments
Luxury dining in Oia is not solely about the delectable cuisine; it is an immersive experience that will not fail to engage your senses in their entirety. The romantic ambiance, with soft candlelight and gentle sea breezes, will set the stage for unforgettable romantic moments of wining and dining. The illuminating sunset of the evening sky, combined with the glorious seaside landscapes surrounding Santorini, will create the perfect setting for a romantic escapade.
Prepare to be enchanted by Oia's irresistible charm
As a captivating destination that offers a harmonious blend of natural beauty and architectural marvels, it is no wonder how Oia became synonymous with luxury. From the moment you arrive in this idyllic village, you are enveloped in an aura of elegance and charm. Immerse yourself in the magic of Santorini's sunsets and indulge in the culinary creations that celebrate the island's flavours.